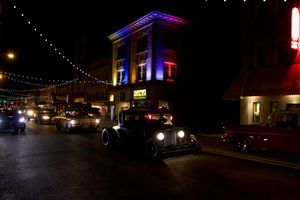 Transformation Through Music & the Arts!
RiffRaff Arts Collective inspires and empowers the arts and creativity in downtown Princeton, West Virginia, Southern WV and the Appalachian region. Established in 2006 in a historic building on Mercer Street, we are located in a dynamic arts complex which features two performance venues, a recording studio, a fine art boutique, artist studios and a music school.  We believe in the power of music and the arts to promote healing, growth and transformation. By providing venues for expression and producing events and experiences that inspire and uplift, the RRAC is helping to reestablish the social and economic vitality of our neighborhood, The Mercer Street Grassroots District.
During the pandemic, we created virtual programming to keep our creative community connected; you can explore those on our Recent Projects page. In 2022, we were so grateful to bring back all of our regular events in-person! We're launching another full year of events, along with our newest project, We Need to Talk. Discover it here.