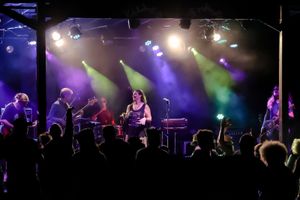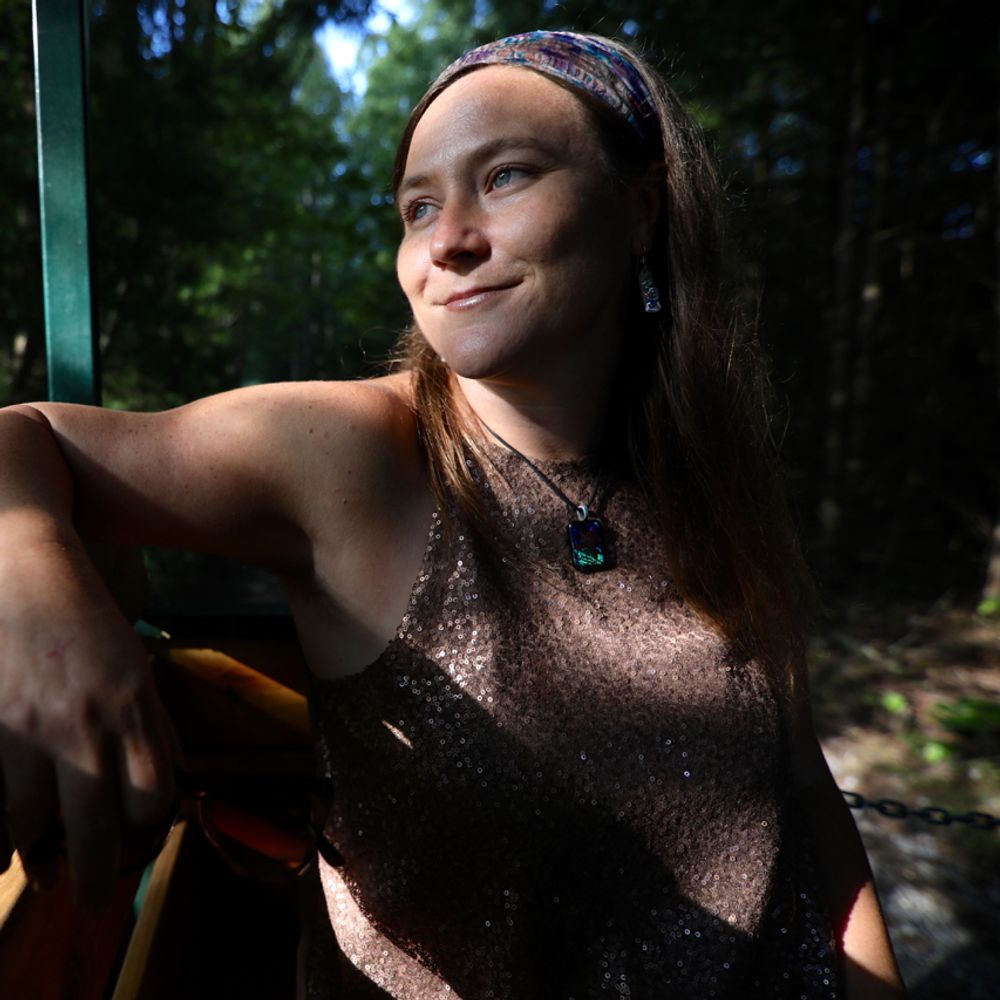 Lori McKinney
Co-founder/executive director
Lori is a songwriter, creative place-maker and community development rockstar. After studying theater at JMU and University College, London, and experiencing life-shaping world travel, she felt called to return home to WV, build community around the creative arts and produce events which would bring people together and inspire change. Lori searched for collaborators and hit the jackpot when she found her soul mate, Robert. The two flowed together though their shared passion of music and desire to build a better world. Choosing to plant roots in Lori's hometown of Princeton, together they founded Culturefest World Music & Arts Festival and Option 22 in '04, formed the RiffRaff Arts Collective in '06 and All Together Arts Week in '09. In '12 she and Robert teamed with members of the community to create Princeton Renaissance Project, a multi-faceted downtown development effort. She feels blessed with an amazing team of creators and a mutual space in which to create, encourage and inspire one another and the community. Robert and Lori, joined by Option 22, now tour the region inspiring and empowering community transformation with their original multi-media production, Create Your State.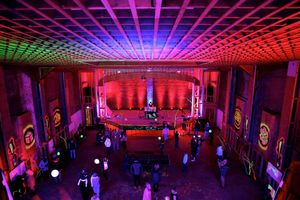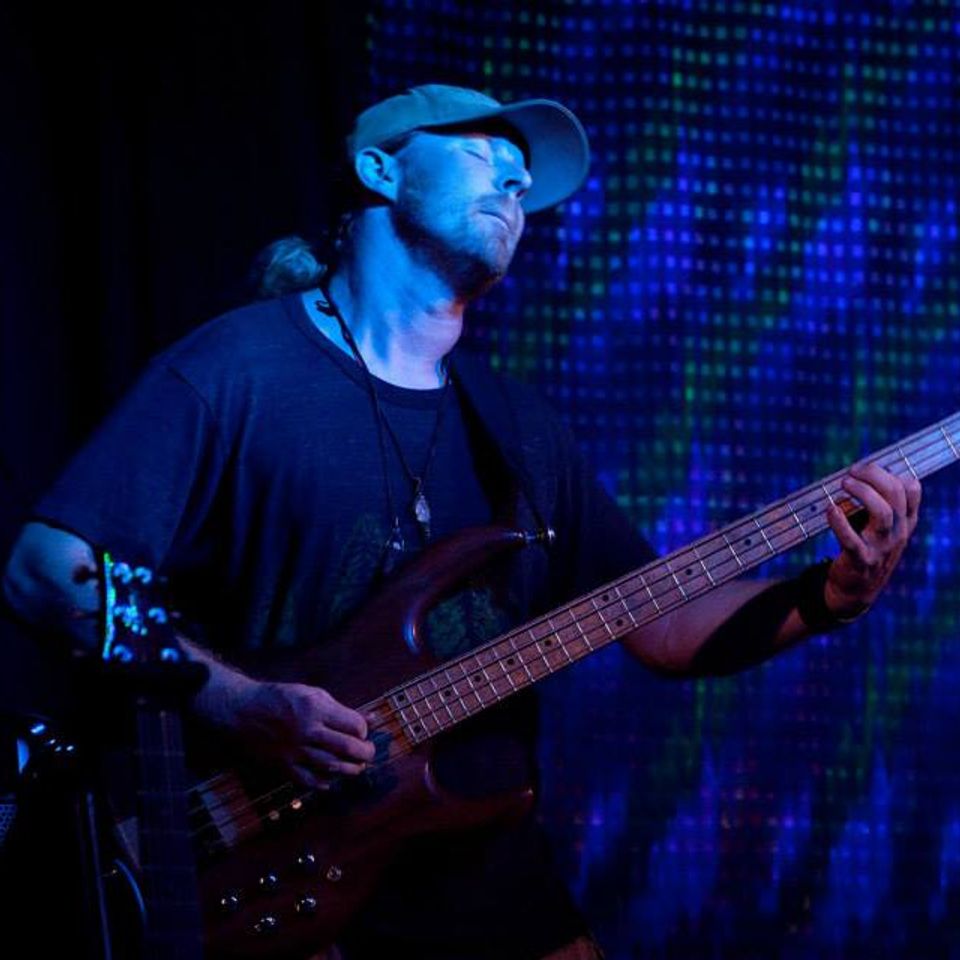 Robert Blankenship
Cofounder/creative & technical director
Robert is co-founder of RRAC and a multidisciplinary artist excelling in photography, video, music, sound engineering, lighting, and design; he is a renaissance man. His work extends in countless directions building the vast scope of activities the collective produces, as well as creative endeavors through he and Lori's production enterprise LLyniuM entertainment. He has designed and engineered our gallery and performance spaces, and is the technical mastermind behind Culturefest World Music & Arts Festival, The Downtown Countdown, Create Your State and all of our programming. His visionary and technical genius engineered our virtual broadcasts; these online events have garnered praise for their high tech and pioneering creativity.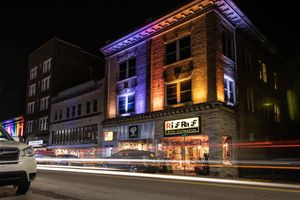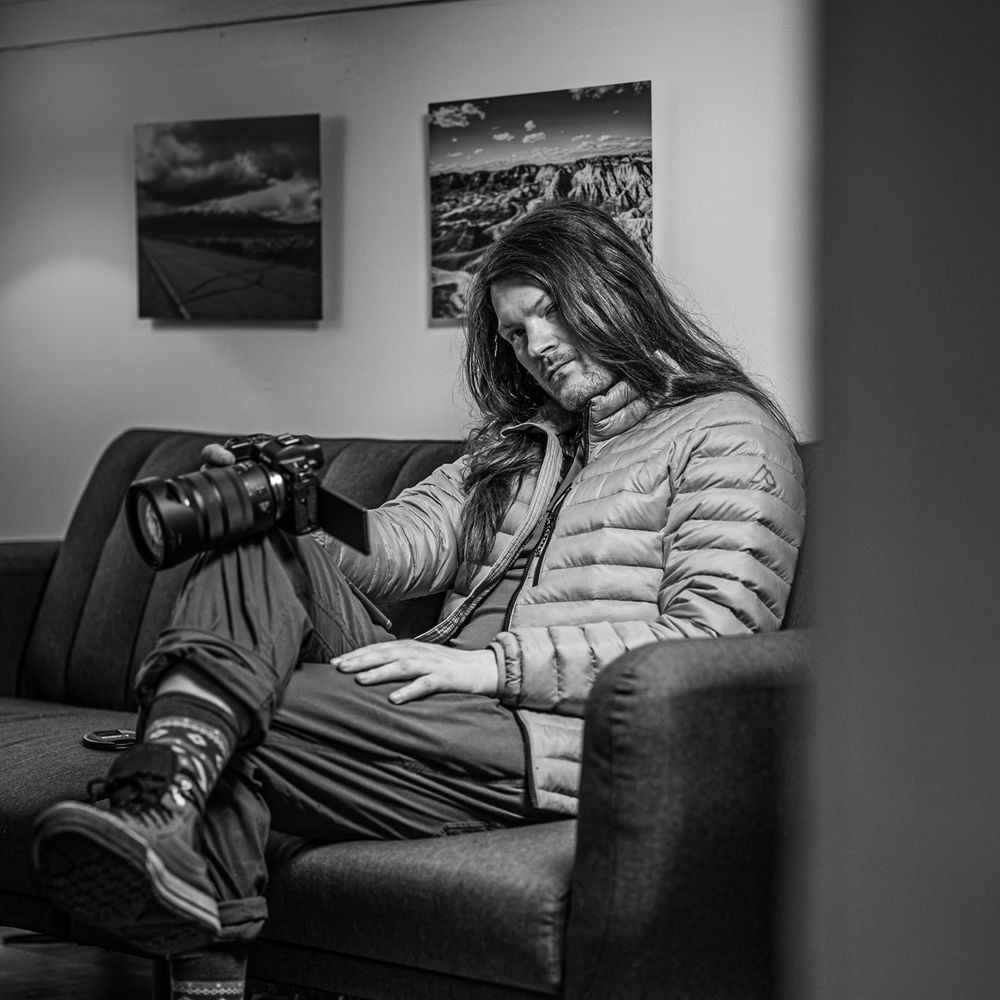 Billy Morgan
photography & Video production
Billy Morgan is a filmmaker, musician and certified audio engineer. He worked as an engineer at Blue Sprocket Sound, production manager for ABC-News Harrisonburg and NBC-News Asheville and Asst. Producer for PBS's Untamed. Before joining RRAC, he produced the original travel docuseries Wandering Down the Road for Amazon Prime. He says filmmaking is the culmination of all his skills--audio, video and storytelling--and it is the most efficient way to make an impact.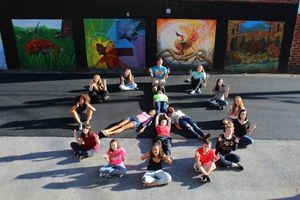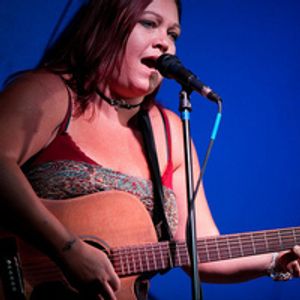 Melissa McKinney
Youth development director
Melissa has been a music educator for over 20 years, inspiring youth to find their voice and make a difference through music. She founded Stages Music School in 2008, bringing an incredible force of energy and activity to downtown Princeton, and teaching young artists to use their voices to make a positive impact on the world. She created The One Voice Project anti-bullying and empowerment concert tour to uplift youth, and provide artist development for young musicians including the popular teenage rock band The Change. A powerfully gifted vocalist and songwriter herself, she has performed on countless stages, and is currently recording an album of her original musical works. She is also a resident teaching artist with LEAF Global Arts. She serves as youth development director for RRAC.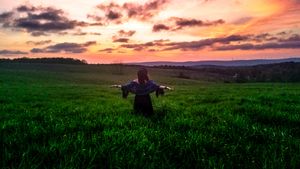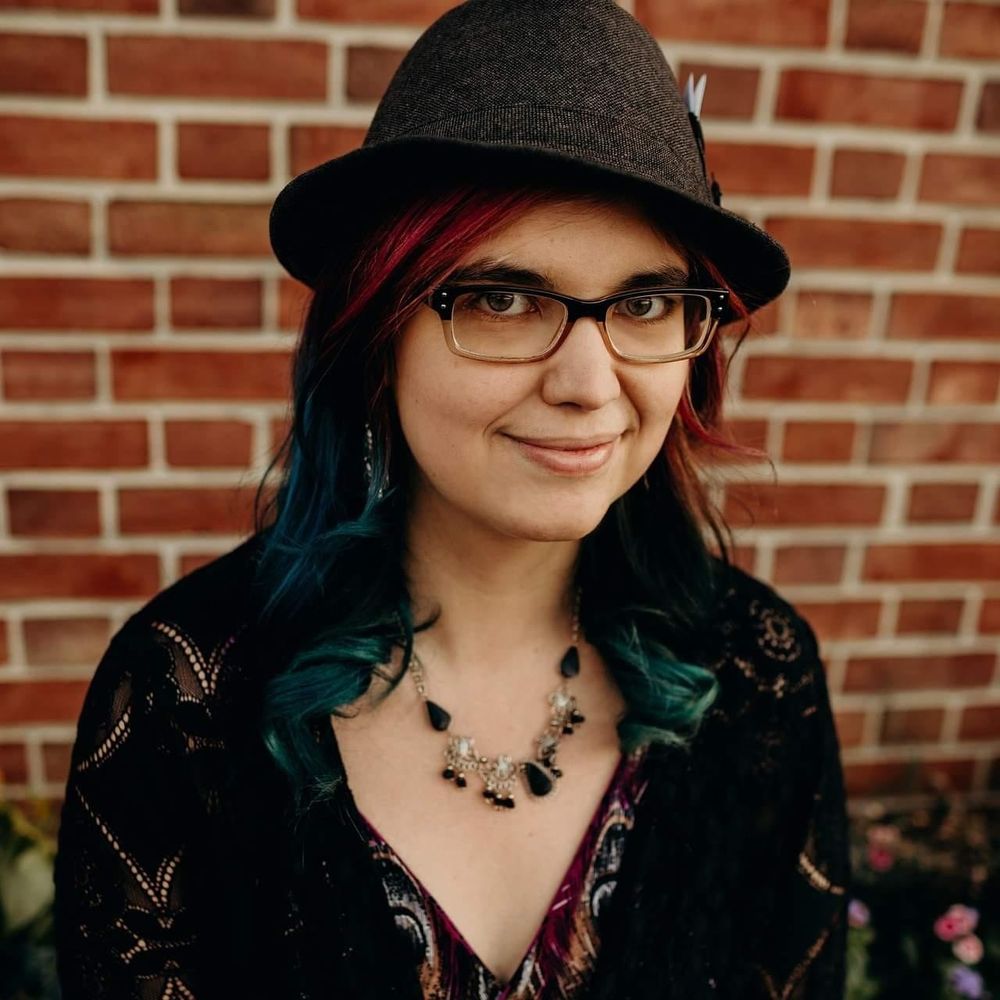 Shannon Shine
Gallery Manager and Team leader
Shannon Shine is an artist, a designer, a speaker, a creator, and a force to be reckoned with if she feels passionately about something. An orphan raised by many through years of navigating life as a physical yet very spiritual being with connections to the spirit realm after loosing both parents very young, she often felt different yet strangely connected to the world around her. Her mission is to live a life that inspires others to transform themselves into the person they wish to be and to follow their dreams. She lives her own dream by helping others Wake Up and Shine On through various outlets including her ever growing network full of resources, amazing people, and opportunities. Much of her journey has been spent helping others find ways to activate their passion and taking it to the next level and, here at The RiffRaff, she does that by empowering artists and small business owners to bring their vision to life. Through Project Bring Me 2 Life, she shares not only her art but also music, podcasts, workshops, and more. Shannon offers a variety of personalized spiritual and transformational services as well as artwork, artisan jewelry, crystals, and other spiritual tools.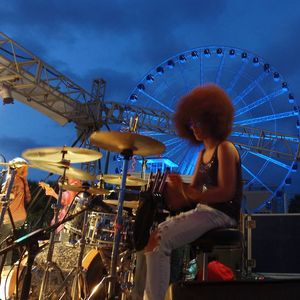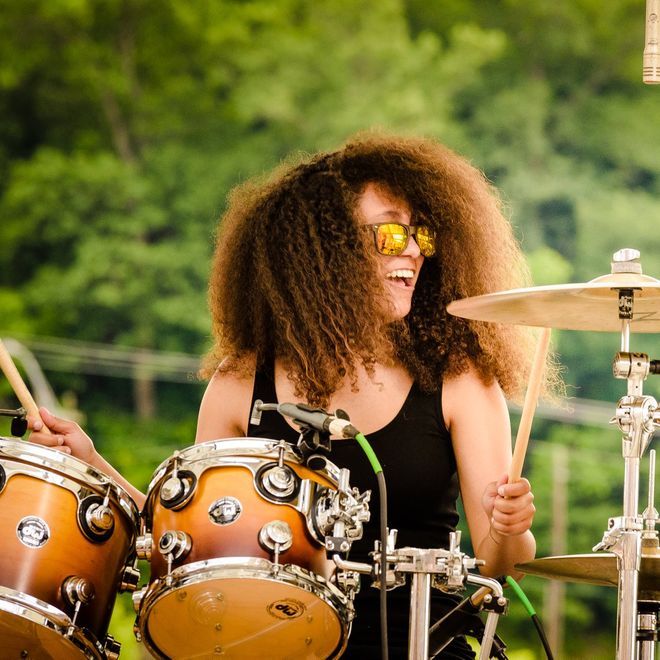 Ary'an Graham
Youth development/production assistant
Ary'an Graham is a rock star musician, drum teacher, and college student. She was the first student at Stages Music School, and now, at 21, she teaches drum lessons at the school that shaped her. For the past five years she has been touring the East Coast with The One Voice Project, an anti-bullying and empowerment tour, and she's also an advocate for Free2Luv, a national nonprofits who's mission is to end bullying. Ary'an plays drums with Option 22 and, for the past 13 years, has been playing music with bass player and best friend Kayla Lynn. Ary'an also tours with Create Your State, inspiring and empowering community transformation through the arts. Ary'an manages the Art Boutique and assists with all aspects of the collective, from event production to assisting in the gallery. She is an integral part of the youth development aspects of RRAC and The One Voice Project.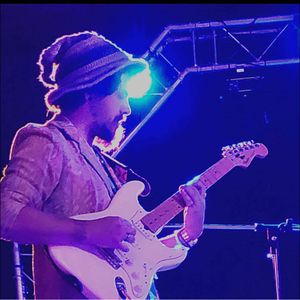 Jordan Furrow
Gallery and programs assistant
Jordan is a multi-facted artist, musician, writer and creator, and has been involved with The RiffRaff in a variety of ways for over a decade. Growing up in Beckley, W.V., Jordan Furrow discovered his passion for music when he got his first drum set at the age of 13. Soon after and for years to come he gradually picked up bass, guitar and many other instruments to solidify his status as a multi-instrumentalist. Having played with various bands in his local scene and abroad, he gained knowledge of many genres and still continues to push the boundaries of what is possible with music. After moving to Seattle to play with other musicians for a few years, he's returned to his roots in the wild and wonderful mountain state to continue his sonic journey. Bands and musicians he's played with over the years include Option 22, The Kind Thieves, Isaac Hadden, Jonah Carden, Yaima, Luness, members of Big Something, and many others. Jordan helps with a variety of programming, including the art gallery, events, and media creation.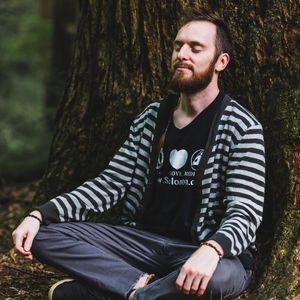 Selomon Colosson
Gallery & programs assistant
Selomon, born Christopher Closson, moved to Princeton in 2022, and is a dynamic part of the community–from assisting with the gallery, programs and events of The RiffRaff, to assistant managing Wild Roots Coffeehouse, to sharing sound healing and meditation events at The Gaia Den and Pigment Sanctuary. Selo began the media network Project Bring Me 2 Life on an adventurous journey of self discovery and wanted to bring a community of like-minded people together, and this ultimately is the way that he became connected with this community. After a series of miracles and many stories to tell, Selomon met Shannon Shine, and began to really see the divine vision of what the Bring Me 2 Life Community should be. Along with Shannon, they created the podcast to be a safe space to talk about everything they've learned through life. The journey of collaboration with our communities has just begun, and there is much on the horizon. Selomon hosts and offers a variety of events, services, and content through meditation, sound healing, and more.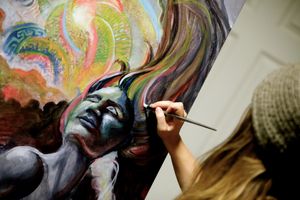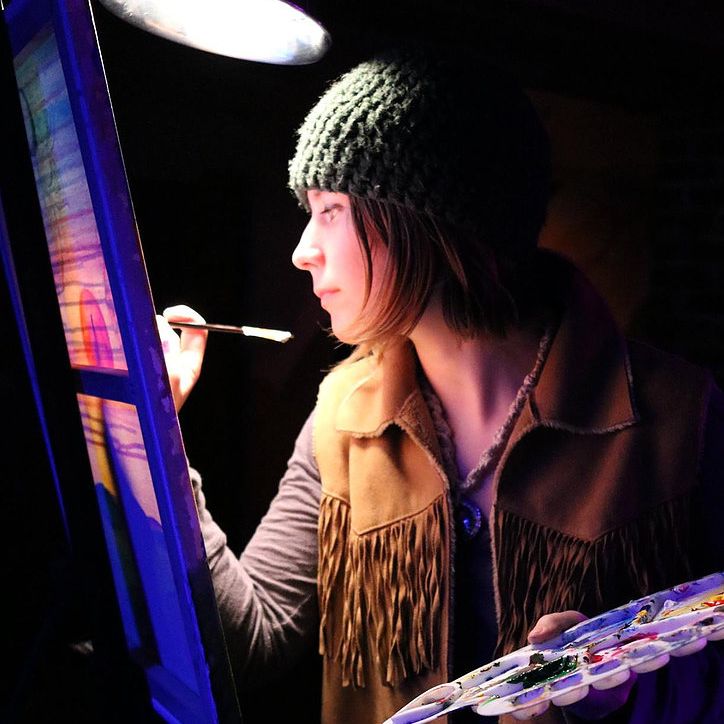 Lacey Vilandry
Artist, gallery attendant
Lacey Vilandry joined RRAC in '19; she works in and shows her extraordinary visionary art in The RiffRaff Art Boutique. She earned a BFA from JMU in '16 and continued her education at the Vienna Academy of Visionary Art. She has shown in several fine art gallery settings, has been a featured live painter at dozens of festivals, and helps design and curate shows as a founding member of The Pigment Sanctuary, and further established a bricks and mortar location for this collective at 860 Mercer Street within Wild Roots Coffeehouse. Her love for painting stems from coming from an artistic family. As a child her mother instilled in her an artistic practice that provided not only a way to provide an escape in stressful times, but also to express and cultivate her imagination. She was named Artist of the Year with the Crystal Chalice Awards in '17. During the summer '18 she continued her education journey at The Chapel of Sacred Mirrors. She is exploring all the different paths open to her, and while she's excited to see where it leads, she is thoroughly enjoying the journey. She led the painting of a major mural in The Historic District of downtown Princeton in Spring 2021, and created her own multi-mural project featuring native wildflowers around The Grassroots District in 2022.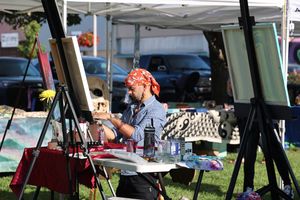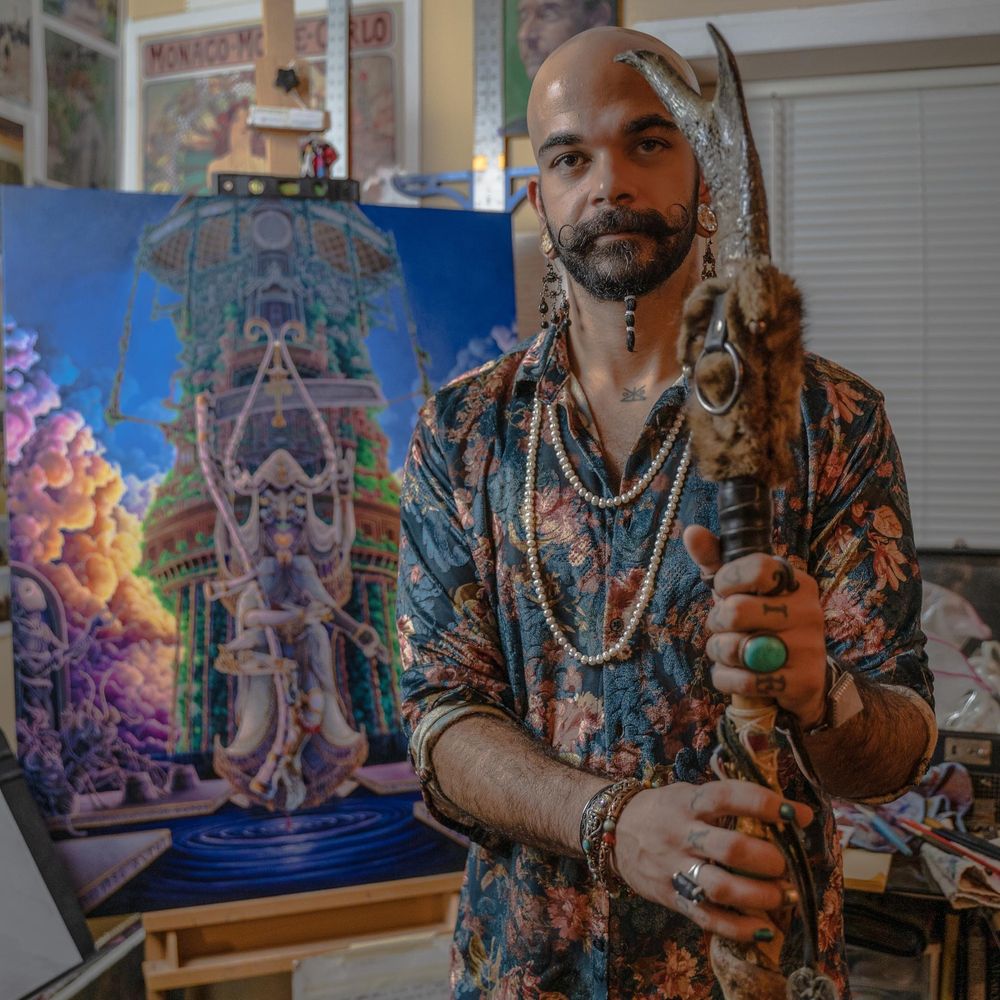 Harrison Crawford
gallery & programs assistant
Harrison is a multi talented artist, and a dynamic presence in the RiffRaff gallery and programs. Deeply dedicated to art, civically and technically, they sought tutorship from masters like Prof. Phillip Robinson and Mantra Cora, specializing in the Mische technique, as well as great artist citizens like those of the RiffRaff Collective. Helping to create a new world with all they were capable of in Princeton, West Virginia, they hope to continue to grow both exponentially and magnificently with new mediums, moments, and artners. With their work, Harrison visualizes the abstract fantastical world of deities and divinities and solidifies them on the canvas for their audience. They work with ideas, pulling possibilities from a place of fantasy and employing an almost magical ability to create space for those ideas to be discussed and made practical. Seeking to be more than just the renderings on the canvas, they are beginning to facilitate an environment that is culturally and imaginatively intoxicating.